COGI's Origins and Foundations
Historically, the World Congress on Controversies in Obstetrics, Gynecology and Infertility (abbreviated as COGI) was formed out of need and out of absence.  Congresses are becoming more and more specialized and monothematic, allowing limited time to fully discuss clinical meaning and the line between Evidence Based Medicine (EBM) and working theories or ideas that are premature to implement into practice. It is that kind of knowledge that turns medicine from a technical profession into an art. Physicians often look for information that can effectively bridge the gap between theory and bedside clinical solutions.
One of the congress' main duties is to dispel this confusion, alleviate the fog of uncertainty and guide the attendee through the maze using the right methodical discussion, and thus, to equip the participants with practical and applicable solutions. COGI was established in order to become a comprehensive congress fully devoted to debate these matters in-depth, alongside world class experts, in all of Ob/Gyn and infertility disciplines, allowing sufficient time for audience-speakers discussions designed to equip the participants with new, effective and helpful clinical solutions.
According to Albert Einstein, "The only source of knowledge is experience". In fact, COGI was born out of experience. Bearing in mind the main purpose of congresses and professional conventions while participating as organizer, speaker or attendee in numerous and various congresses, I've experienced much inefficiency in the organizational methods that prevented them from fulfilling their purpose to the fullest possible extent. Out of these, arose the need to add and redefine another mode of effectively communicating clinical experience and research.COGI is based on the following pillars:
Controversial and enriching topics and debates.
Cohesive and integrative sessions.
Expert opinion where evidence is insufficient.
Internationally prominent and renowned speakers.
Over 30% of the program devoted to discussion.
Mainly plenary sessions and round table discussions.
Reaching consensus where possible.
CME-approved program.
COGI's History
The idea to establish the COGI Congress started in the early 90's, almost a decade before the inauguration of the first edition when I established and edited in the 'Journal of IVF/ET' (currently named 'IVF and Genetics') the 'Controversies' section that preceded the sections of 'Debate' and 'Opinion' in the 'Journal of Human Reproduction' and 'Fertility Sterility'. Later, the idea was developed and manifested in successful congresses where all the Ob/Gyn/Infertility disciplines were covered and the road to establishing World COGI Congress as 'A comprehensive congress fully devoted to clinical debates and controversial issues in the entire field of Ob/Gyn and infertility' was paved.
Summary
Today, the concept congresses in Controversies in Obstetrics, Gynecology and Infertility needs no introduction. You can recognize a good 'product' when you see one. Reviewing the numerous yearly programs conveys the extensive efforts and resources invested by the organizers into preparing a program that fits the modern physician's practical needs. The ever growing number of attendees speaks for itself. The fact that the concept was copied under my guidance onto numerous fields in other branches of medicine bears witness to the relevance of the concept to today's physician's needs.
It is my pleasure on behalf of the organizing committee to invite you to attend and become part of this success. We also invite you to follow us on Facebook and LinkedIn, the modern substitute for official society.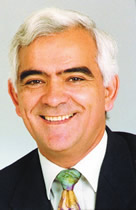 Prof. Zion Ben Rafael
founder of the Controversies in Obstetrics, Gynecology and Infertility (COGI) Congresses
---